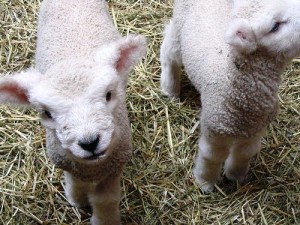 I love animals.
I love them in the same way I love trees, mountains, the ocean; all of nature.
And, although I wasn't a child who fussed or fretted about animals, I would dearly have loved a little cat of my own. But that was really the extent of my interest in pets.
I didn't feel a need to acquire a menagerie, or possess or pat every animal in sight. I simply appreciated the differences and beauty they offered to my experience of life.
At Easter time, when we traveled to the country to visit family, along the way Dad would point out the lambs that had just been docked or the sheep which had just been shorn.
At these times, I always felt that there was something unnatural and unkind about what had been done to those animals.
They were being shorn as Autumn was arriving.
Of course, I now understand the kindness behind docking — albeit unnatural and imposed.
But my natural, first impression, was an unpleasant sinking feeling and an overwhelming surge of compassion. Especially for the little baby lambs.
Eating meat never seemed natural to me
When I reflect now, I feel sure that I'd been vegan in another space and time. And I believe that patterns from that past life were being reflected in my feelings about how animals were treated.
My body was also reflecting this idea through intolerances to some foods in my diet.
But I especially feel this to be true when I remember being forced, by my Mum, to eat meat.
It was never enjoyable or natural to me but, as most parents do, my mother considered meat to be a necessary and healthy component of my diet.
And a healthy diet for me was particularly important to my Mum, as I was asthmatic as a child and often sick.
It makes perfect sense to me now that the many allergies and intolerances I experienced, especially to diary and eggs, were the reaction of my soul's aversion to harming innocent creatures.
These foods I've since eliminated from my diet and, yet again, validate my feeling of having been vegan at least once before.
All these years later I can happily say that I've been a committed vegetarian since 1995.
That's 18 guilt-free years for me.
And, more recently, through my son's commitment to being vegan, my daughter, her partner and I have taken that next step towards greater love and harmony.
The choice to be vegan or vegetarian
During those 18 years, I've heard many amusing reasons for why we should not be vegetarian or vegan. The most hysterical being, 'You'll die if you don't eat meat.'
At the time, I was completely baffled by how someone could even make this statement. Especially considering how many different vegetarian cultures there are. So now, as I reflect with a tinge of relish, I remind myself that my health has never been better or my conscience as clear and free.
It's interesting to me how many people will say when they discover I'm vegetarian, now vegan: 'I was a vegetarian for … years.' Always citing health reasons for their decision to revert to eating meat!
However, one of the reasons many vegetarians make that choice is because they feel it's healthier for their bodies.
And it is.
It's much, much healthier for our bodies.
Yet meat-eaters don't perceive the very many other levels of health to be had by abstaining from meat and other animal products.
But of all the possible benefits being vegetarian or vegan offers, being kind and in harmony with all life is the greatest.
It's a choice that's essential for living a harmless life
Apart from a psychic impression in my late teens, in which I was vegetarian, I'd never considered being vegetarian as an option.
It, quite simply, wasn't a part of the Christian culture my family lived.
Jesus ate meat, therefore, it's okay to eat meat. Except on Fridays during lent, and of course Good Friday, when even non-Christians would abstain!
Eating fish instead of red meat or chicken doesn't really equate to 'no meat' in my estimation. But it isn't only Catholics who see it that way. It's pretty common to be asked if you eat seafood after telling someone you're vegetarian.
My first real exposure to being vegetarian came when I met June, the woman who became my first spiritual mentor. Her partner Tim was, at that time, the President of Animal Liberation NSW, and both were passionate animal rights activists.
However, it wasn't until I had my introduction to Raja Yoga, months later, that being vegetarian became an essential component in my personal growth and spiritual development.
In the Brahma Kumaris I felt a sense of coming home, and the final piece of the jigsaw puzzle of my past and present lives fell into place.
But the challenges which accompanied my choice to become vegetarian were some of the greatest I've had to overcome.
Flexing my spiritual muscle
I didn't realise how attached friends and family had become to their idea of who I was or who they thought I should be.
My choice to change to a harmless diet was a bitter pill for them to swallow.
It seemed that following my conscience confronted the more conventional attitudes of my family and friends. And that this choice was, apparently, not mine alone to make.
At least, that's how they saw it.
Of course, it was my decision and mine alone.
And as I persisted in following the inner voice which was guiding me, my strength and stamina grew to withstand any obstructing influences.
My view had been quite simple: a clear conscience naturally leads to health and harmony.
I didn't impose being vegetarian on anyone else. But some of those around me behaved as if it was a great imposition to them.
Where my children were concerned — and they were my main consideration — I allowed them to decide for themselves what was appropriate for them and when.
They, along with my brother, were my greatest advocates as they realised the beauty of what I was attempting and the strength required to achieve it.
I shared with them my beliefs and the rationale behind them and, in their own time, each came to their own decision for their own reasons.
Their choice would be for a vegetarian and later, in my children's case, vegan lifestyle, and so the choice for harmlessness and greater love was embraced by all.
My daughter went on to have two healthy pregnancies while vegetarian, and is now raising two beautiful, vegetarian daughters.
For me that's an affirmation that following our conscience is the best way to achieve peace of mind and health and wellbeing.
Through the choice for a harmless and love-filled life, we open ourselves to grace and, in this instance, truly befriend our animal brothers and sisters.
We then become one family unified in God.
So if harmlessness appeals to you, and grace is tapping on your shoulder, this blessing is for you:
May the path to harmlessness be free from obstruction,
May the strength of your love support your transition,
And may you enjoy every guilt-free moment.
With all my love and encouragement
Karen x
Image credit: ejhogbin
Other posts you might like