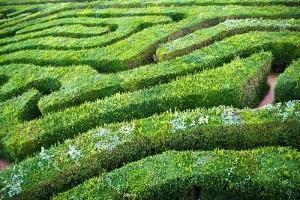 We're always moving along our spiritual path.
Whether we're actively seeking it or trying to avoid it, we can't escape being on the road to enlightenment.
Karma sees to that.
Sometimes, it feels that we've detoured, or that we've become lost in life's maze. We can feel that life has taken over and is moving us along. Yet even then, we remain firmly set on our spiritual journey through life.
Though we may not feel connected to spirit, we can be sure that karma is at work and is providing us with the lessons necessary for our growth.
Karma fills our life with challenges and rewards
Karma, the law of cause and effect, ensures that divine law is operating at all times. It delivers experiences to us impartially, offering us the opportunity to correct past mistakes in our actions, attitudes and behaviours.
Karma operates without regard for who we are, how we perceive it, or even whether we believe in it.
If we choose to accept responsibility for the role we've played in attracting our life experiences — whether we consider them good or bad — we embrace our spirituality, and we align with grace and our spiritual path.
However, this responsibility is difficult for many people to accept, as it's essentially saying: regardless of what's happening in my life at any given time, it's come to me by my own hand.
A weighty and profound concept to acknowledge.
This leads many people to ask valid questions such as: 'what about children who have been sexually abused, or who have terminal or terrible illnesses?'
The answer to this question is simple, yet for most, almost impossible to accept. According to the law of karma, even abused children and seriously ill people have attracted these deeply affecting experiences to themselves.
And the choice was made, in many cases, at another place and time in the world's, and the soul's, history.
Choices for our life — before and after our arrival here on Earth
We don't have to believe in reincarnation to understand that a soul may be capable of making choices even before it enters life on this Earth. Our gender, body type, social and economic influences, even our parents, siblings and friends, may already be decided by our soul, well before our arrival here.
And if you believe in reincarnation, the older the soul, the more karma it's accumulated. This is why some people have such troubled and difficult lives. They have many lifetimes of accumulated karma. Yet, being an old soul doesn't guarantee wisdom. Some souls take many lifetimes to learn lessons which others may learn in one.
But the learning gained through adverse experiences, such as abuse or serious illness, isn't always caused by karma. And it isn't necessarily designed for the afflicted person.
Sometimes, very advanced souls enter lives of great difficulty to demonstrate virtues such as stoicism, fortitude, forgiveness or compassion.
This learning may be more for those they share the experience with — like parents or siblings — than for themselves.
This is a another difficult idea to accept, which can make people very uncomfortable.
And it's likely that even a very great soul may not understand this consciously.
For most people, however, the idea that they're somehow responsible for the unpleasant or unhappy experiences they encounter, doesn't sit well.
And even though we frequently experience happy circumstances and generous acts, we usually don't attribute them to our karma. If we did, we might feel much better about ourselves and our lives, and continue to generate more of these positive vibes.
But it's difficult for us to admit or accept that we have such power and control in our own lives.
We do!
We're constantly creating new experiences based on our thoughts and beliefs, which will, at some point in time, deliver back to us difficulty or good fortune.
It all depends on what we give out.
Move in harmony with your karma
It's only when we step out of worldly perceptions of life and look at the big picture that things become clear. With clarity and deeper understanding, we can begin to form a framework for another way of interpreting meaning in our lives.
And in my experience, it's only through a broad view of life that we can feel clear, centred and inspired.
By operating from fundamental, universal truths, we streamline our minds and our lives.
Our mind, body and spirit become integrated, with a more cohesive attitude and approach towards what we think and how we live.
We're in control, rather than our karma.
And whilst karma will continue to deliver our lessons to us, we'll be in a better place to deal with those lessons. By moving to a more harmonious and receptive mind space, we can more lovingly face our karma.
We find harmony within and without.
As a result, we slip into the stream of consciousness which nourishes and enlivens our spirit.
We unify within ourselves, and with the world.
And, of course, we align with grace.
So if you would like to become more consciously involved in your spiritual journey, this blessing is for you:
May you love your own life and all the people in it,
May you realise it's your spiritual path
And may you walk it with grace and dignity.
With all my love
Karen x
Image credit: odolphie
Other posts you might like