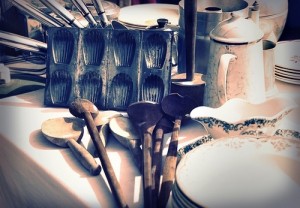 Once upon a time, there lived a lady.
She always strove to be kind and selfless, and most of her time was spent caring for her children and the family home.
Because she was such a caring person, she wanted to be the best mother she could be.
So, she stayed at home to raise her children and happily went without many of the things most other wives and mothers took for granted.
Amongst the things she went without was a good frying pan.
When people would see her frying pan they would say to her, 'That frying pan is terrible. You must get yourself a new one'.
But the lady simply smiled and thought to herself, 'Of all the things we really need, a frying pan is the least of my considerations'.
As the years passed, the lady's life changed in many ways.
She was no longer married, her children had grown and, if she had wanted, she could have bought a new frying pan many times over. The truth was that she didn't really care very much about whether or not she had a new frying pan.
One day, her children started remarking, 'You really need a new frying pan, look at this terrible old thing'.
Soon after, for one of her birthdays, her son presented her with a beautiful new and very sturdy frying pan. She felt relieved and thought to herself, 'Finally, a new frying pan. Now everyone can relax'.
To her surprise, she really enjoyed cooking with her new present. It seemed as if the food she prepared in the pan tasted all the better, and she found herself very grateful each time she used it.
Each and every time she finished using it, she would scrub it inside and out, making sure she removed every spot until it gleamed like a shiny new pin. When it was dry, she would place it carefully back into the draw where she kept it, until such time as she needed to use it again.
She took great care of her frying pan, having waited so long for it to arrive in her life.
'Who would ever have thought that a frying pan could give such pleasure', she pondered as she cooked with and then cleaned her lovely pan.
After a time, her family — who had being living apart — all moved into a big house together. Living in the house was the lady, her daughter and family, as well as the lady's son.
In the hustle and bustle of their busy family life, the frying pan was being put to good use. But, much to the lady's dismay, she discovered that in all its new and frequent use, the frying pan was being neglected. It no longer shined and sparkled like new. It had grease built up on the surfaces and there were scorch marks which wouldn't come off.
Her lovely frying pan was a shadow of its former self.
This made the lady very angry, and each time she would see someone using her frying pan carelessly, she would feel very disheartened.
In an attempt not to be petty, she began saying to herself, 'It doesn't matter if it gets ruined. I can always buy another one'. But deep down, she still felt upset that others were using her frying pan, but not taking care with it.
She kept reminding herself that it's just a frying pan, and that attachment to things can make you very unhappy. But the feeling of upset would persist every time she would see someone being indifferent with her frying pan.
One day, she saw that someone had left the frying pan on the heat after they had finished using it. Oil and fat were baking onto it, and it didn't seem to bother anyone; except the lady.
She decided to say something.
But to no avail. Her frying pan remained just as neglected as it had been before.
'What am I to do?', she thought. 'Why does this frying pan matter so much to me, anyway?'
She thought about this for a long time.
Then one day she understood.
This frying pan wasn't just any old frying pan.
It was the frying pan her son had given her for her birthday. She had always treated it with the same care and thoughtfulness she had shown toward any gift given to her with love.
This wasn't just a frying pan to her, but a symbol of the patience and selflessness she had shown towards her children so their needs would always come first.
She realised that within his gift, was her son's recognition and desire to see her have what he felt she deserved.
His gift had given her so much joy, and now it had become a source of sorrow and frustration. No-one else seemed to understand just how much his gesture meant to her.
No-one else wanted to see what she saw in this silly frying pan.
She reminded herself once again that people are meant to be loved and that things are made to be used. All the while knowing that by loving this thing, she was loving her son.
And, within his gift of the frying pan, was the gift of his love for her, too.
Image credit: Kotomi_
Other posts you might like