Being vegan often means saying no to things you've previously enjoyed. So discovering soy condensed milk (and then later a coconut variety) was a very happy event in our home — it meant caramel was back on the menu!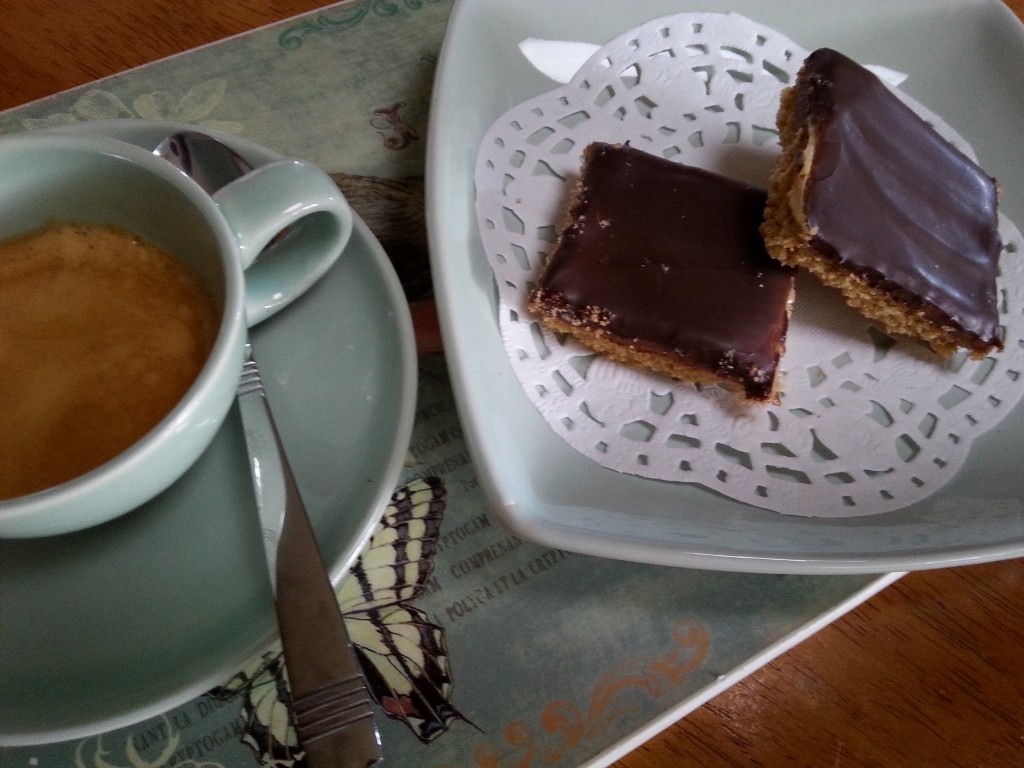 This caramel slice recipe makes 12 average squares with a moderate layer of caramel. If you prefer a thick layer of caramel, simply double the ingredient quantities for the topping. Serve chilled or at room temperature, cut into squares or small rectangles.
Ingredients
Base
1 cup self-raising flour
1 cup coconut or unprocessed bran
(using bran makes the base much crunchier)
½ cup coconut sugar
125g coconut oil
Topping
330g can soy or coconut condensed milk
2 tablespoons golden syrup
30g coconut oil
(If you like a lot of caramel double these 3 ingredients.
Vegetarians can use regular condensed milk as soy does taste a bit different.)
250g Lindt dark cooking chocolate
Method
Preheat moderate oven.
Grease a 21 x 28 cm scone tray (basically, a tray about 1 cm deep).
Base
Combine dry ingredients in a mixing bowl.
Melt the 125g coconut oil and add to dry ingredients.
Stir through until mixture is consistent.
Press firmly into greased scone tray.
Bake for 12-15 minutes in moderate oven, or until golden brown.
Allow to cool then refrigerate.
Topping
Pour can of soy or coconut condensed milk into small saucepan.
Add golden syrup and coconut oil.
Bring to boil stirring constantly.
Lower heat and stir constantly for 10 minutes.
Leave on heat longer if you prefer a chewy darker caramel,
but be careful not to scorch it.
If using a double measure of ingredients you will have to increase
the cooking time. It will take closer to 20 mins.
I know when it's ready based on colour and consistency. As long as
you don't have the heat too high, it won't scorch easily.
Allow to cool slightly then spread over base.
Refrigerate until firm.
Melt chocolate and spread over slice.
Return to fridge until set.
Cut into squares or small rectangles.
Other posts you might like