I like preparing this dish when the whole family is gathered together. It gets everyone involved. Someone chops the vegetables, someone steams the rice, while others set the table. Even those in our family who aren't vegan or vegetarian love this meal.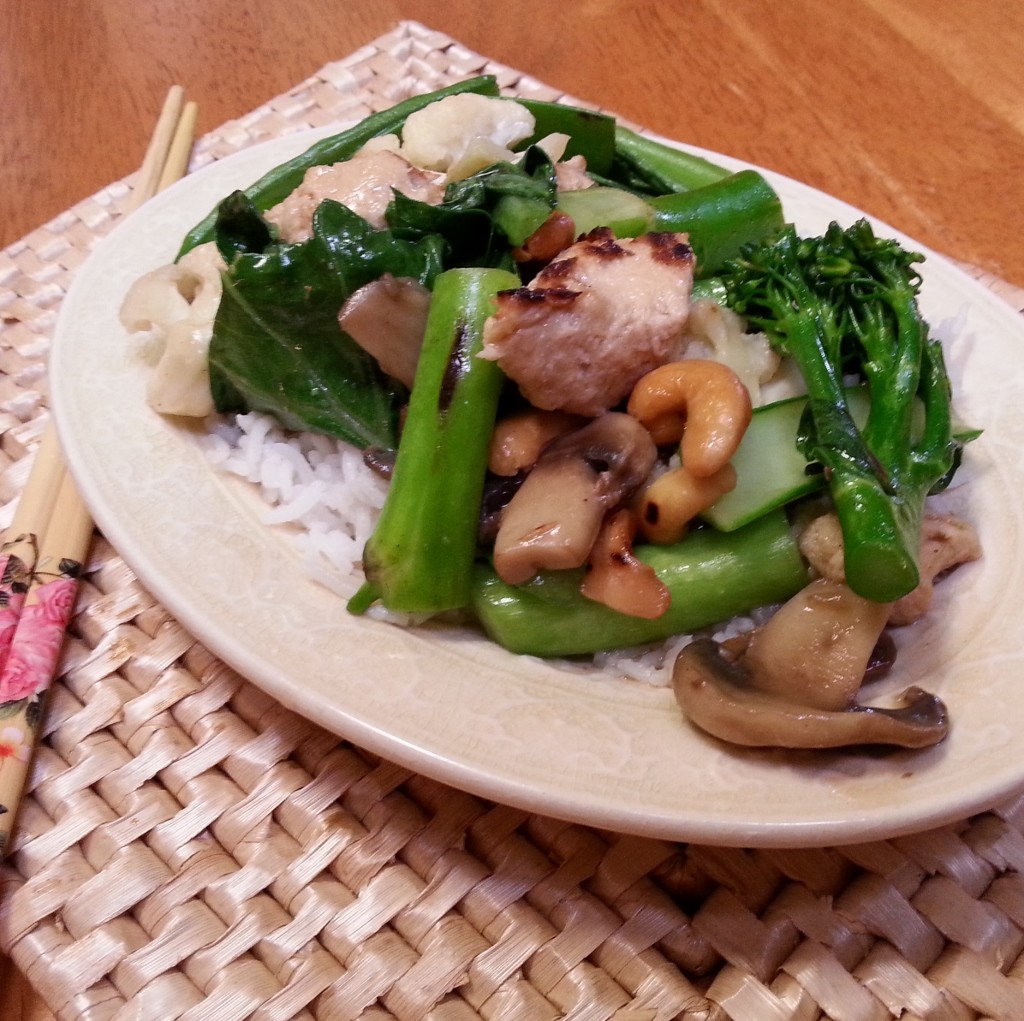 When the whole family prepares a meal together, it's such a satisfying and nourishing experience. There's lots of talking, laughing and teasing going on as we work together, side by side.
The quantities below serves 8, so halve or quarter as required.
Ingredients
1 x 500g pkt mock chicken pieces (I use Ayers Rock brand)
1 cup roasted, salted cashews
125g snow peas (about 20), topped
1 bunch Chinese broccoli, cut into thirds
1½ cups sliced mushrooms
½ bunch cauliflower, cut into florets
2 bunches choy sum, sliced
2 cups warm water
2 Massel Ultracube chicken stock cubes
4 tablespoons light soy sauce
4 tablespoons vegetarian oyster sauce
2 tablespoons cornflour
4 tablespoons extra water
2 tablespoons coconut oil
2 teaspoons sesame oil
½ teaspoon asafoetida
Method
Defrost the mock chicken.
Prepare the vegetables.
Dissolve the stock cubes in the warm water.
Mix the cornflour with the extra water.
In a non-stick frying pan, dry fry the mock chicken until golden brown.
Remove from the pan, and set aside.
Heat the coconut oil in a frying pan, and lightly fry the asafoetida.
Add the cauliflower and mushrooms, and fry on medium heat.
Stir frequently until the mushrooms become tender.
Turn up the heat, and add the broccoli.
Cook until the broccoli is heated through and bright green.
Next, add the snow peas, choy sum, cashews and chicken, and toss together.
Pour in the stock.
Bring to the boil, then lower the heat.
Add in the oyster and soy sauces, and stir through.
Remove from the heat and stir in the cornflour-water mix.
Return to the heat and toss the ingredients until the sauce thickens.
Stir in the sesame oil, and remove from heat.
Serve on a bed of steamed rice.
Other posts you might like