This flavoursome vegan chickpea curry is one of my family's favourites and can be prepared and on the table in around 15 minutes. It's mild so it's great for children as well as adults.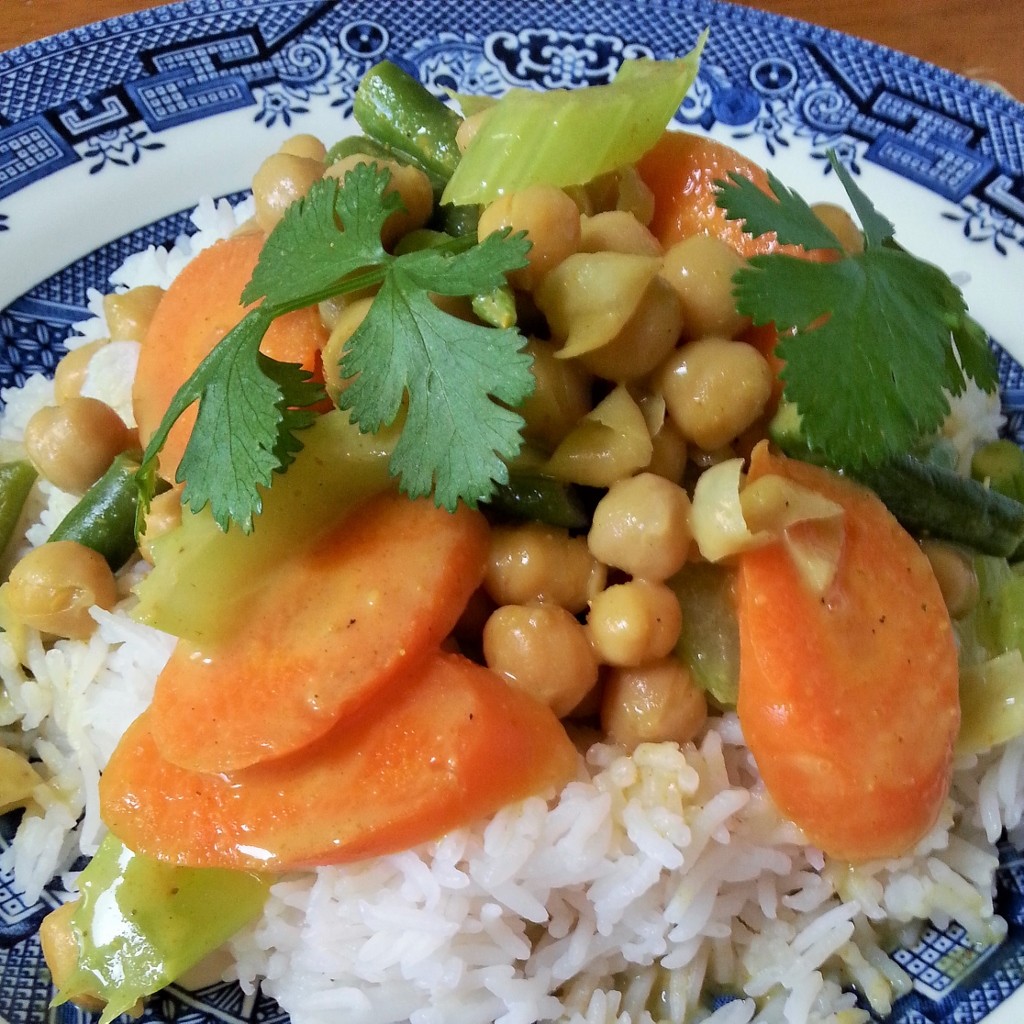 I make sure this recipe has lots of sauce as the men in my family load their bowls full of rice. If you prefer a little less, simply increase the vegetable content (snowpeas and broccoli would be a nice addition).
Make any changes you like to suit your family's taste. Someone suggested a little chilli might be nice, so feel free to play with this recipe to your heart's desire.
The quantities here will make 2 hearty serves or 4 small serves.
Increase ingredient quantities if you want larger portion sizes.
Ingredients
1 400g can chickpeas (or 1½ cups of soaked and boiled chickpeas)
1 long celery stalk
1 large carrot
½ cup fresh or frozen beans
1 tablespoon fresh chopped coriander
½ cup coconut milk
1½ – 2 tablespoons curry powder or green vegan curry paste
(Amount of curry powder will differ depending on strength & brand,
for this recipe I use Keen's Curry Powder.)
1 teaspoon sesame oil
1 tablespoon of olive oil
1½ tablespoons light soy sauce
½ Massel Ultracube chicken stock
¾ cup of warm water
¼ teaspoon yellow asafoetida (or ½ a brown onion)
1½ tablespoons of cornflour
3 tablespoons of extra water
Method
Drain and rinse chickpeas.
Slice celery and carrot.
Top and tail or defrost the beans.
Dissolve stock cube in the ¾ cup of warm water.
Heat olive oil in wok.
Add asafoetida or onion.
Lightly fry asafoetida, (lightly brown onion).
Raise heat and add vegetables.
Quickly fry over high heat.
Add chickpeas, coconut milk, stock, curry and soy sauce.
Bring to boil.
Lower heat.
Combine cornflour and extra water.
Add to wok, stirring constantly.
When thickened, remove from heat.
Stir in sesame oil.
Serve with steamed rice and top with chopped fresh coriander.
Other posts you might like