Lots of protein and lots of flavour, chilli nuts and marinated tofu will tickle your taste buds and build your muscles.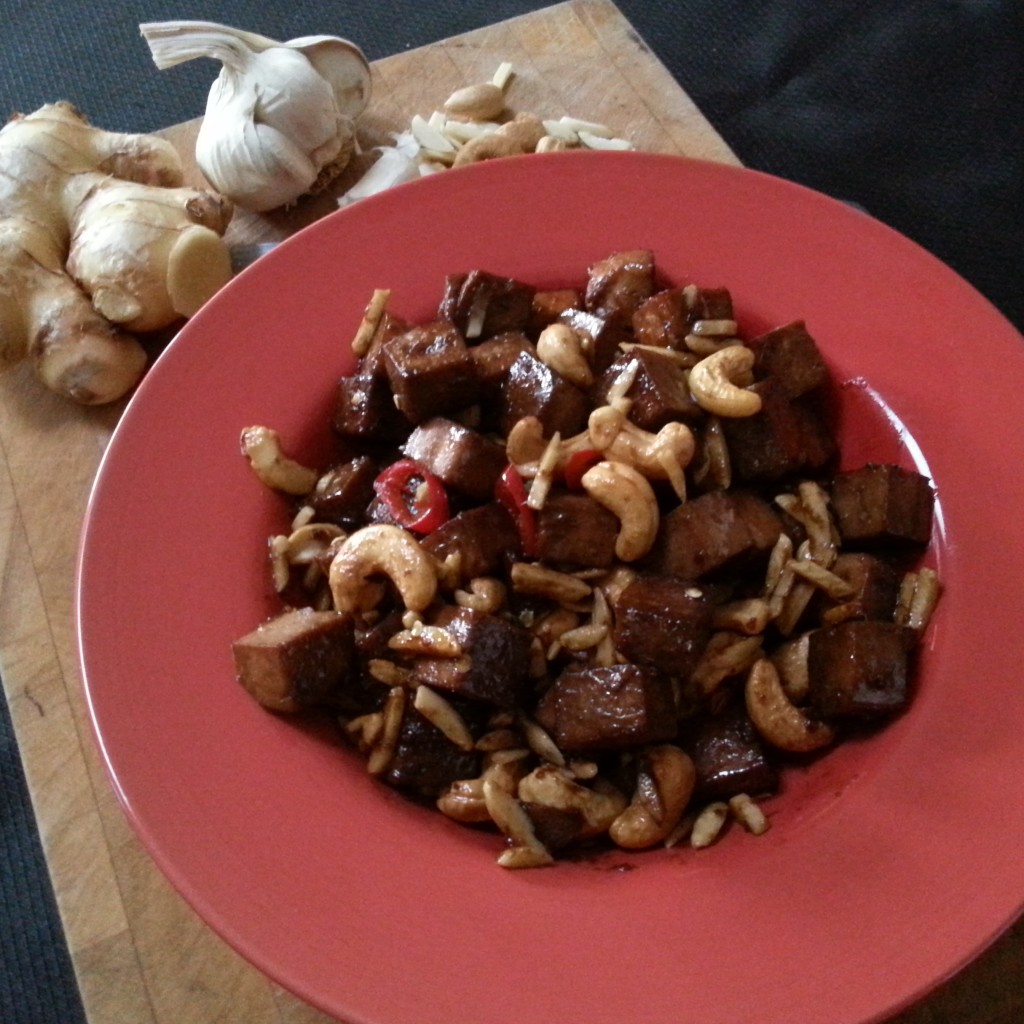 The quantities here make 2 small servings but, as this is a protein-laden meal, a small serving is quite filling.
Ingredients
1 x 250g pkt organic firm tofu
½ cup roasted cashews
¼ cup slivered almonds
1 piece of fresh ginger, about an inch in length, finely grated
(I use a ginger grater which creates a pulp)
2 cloves garlic, crushed
1 or 2 small hot red chillies (depending on how much chilli you like)
¼ cup tamari/GMO free dark soy
2 tablespoons coconut sugar
1 tablespoon agave syrup
1 tablespoon water
1 tablespoon coconut oil
1 teaspoon sesame oil
Method
Wash the tofu under cold running water, then cut it into cubes.
In a large bowl, combine the tamari/soy sauce, 1 clove of garlic, the agave syrup and 1 tablespoon of the coconut sugar.
Add the tofu.
Marinate for 1 hour.
Heat the coconut oil in wok and gently fry the ginger and garlic.
Remove the tofu from the marinade and add to the wok.
Stir to make sure you caramelise each side of the tofu cubes.
Add 2 tablespoons of the marinade, the remaining tablespoon of coconut sugar, the nuts, chilli, sesame oil and water.
Toss until all ingredients are coated.
If you like the rich flavours of the marinade, just add more for extra sauce.
If you find it a little too salty, add a touch more water.
Stir fry for a minute or two, then remove from the heat.
Serve with steamed rice and your choice of greens, lightly steamed.
Other posts you might like