My granddaughters love these noodles. When I make this recipe for them, the noodles seem to disappear from their bowls in seconds. And, the girls always come back for more.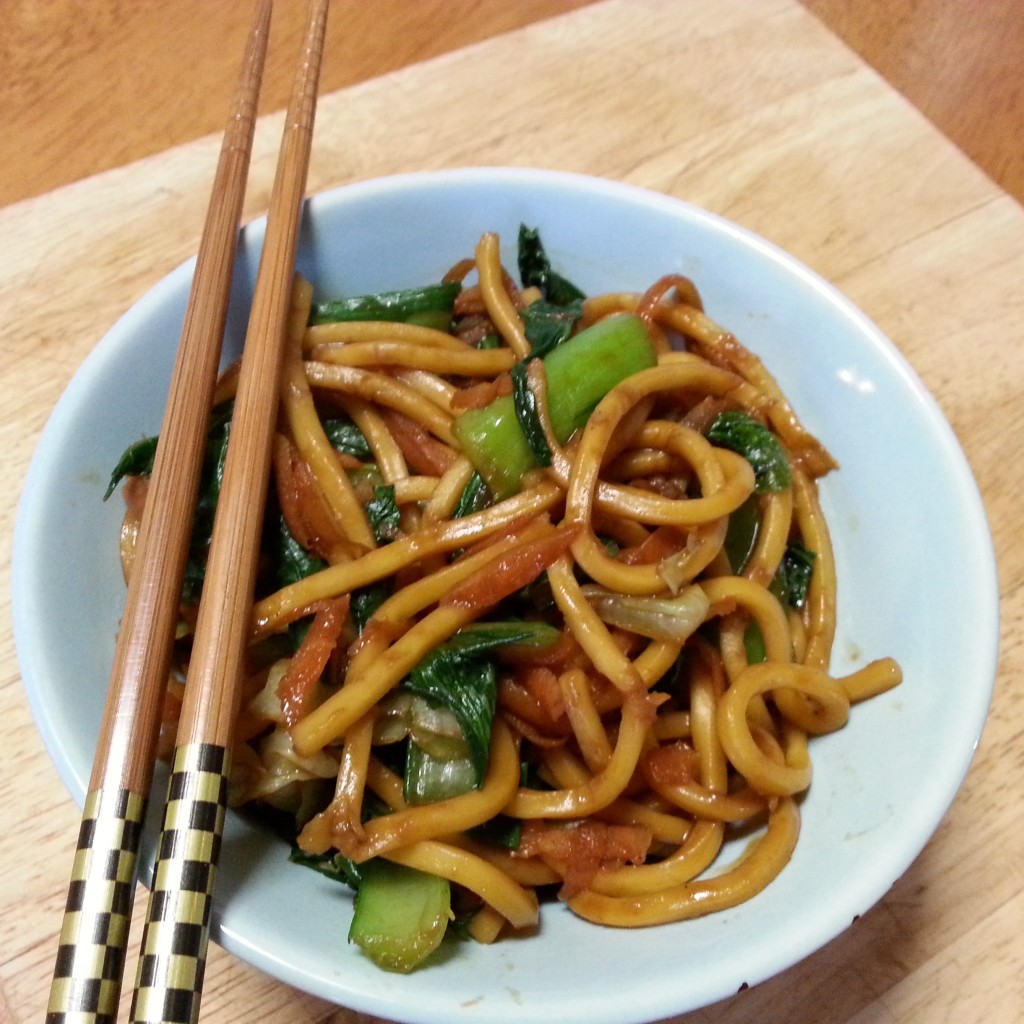 I haven't added any protein to this meal in the picture, but you can add some marinated tofu if you want a more substantial meal.
Makes 4 generous servings.
Ingredients
450g Hokkien noodles
2 bunches of choy sum
1 carrot, grated or julienned
1½ cups shredded wombok
1 cup sliced beans (fresh or frozen)
1 spring onion, sliced
3 tablespoons vegetarian oyster sauce
2 tablespoons dark mushroom soy sauce
2 tablespoons hoisin sauce
1 tablespoon olive oil
1 teaspoon sesame oil
¼ teaspoon yellow asafoetida
¼ cup hot water
½ Massel Ultracube beef stock cube
Pepper or chilli to taste
Optionally, for marinated tofu …
1 x 250g pkt organic firm tofu
¼ cup dark or mushroom soy sauce
1 tablespoon panela sugar
Method
Place the noodles in a basin filled with hot tap water. Leave them to soak.
If including tofu, wash it under cold running water, then cut it into cubes.
Marinate the tofu in the soy sauce and panela sugar for a few minutes.
Stir fry the tofu until golden brown, and set aside.
Prepare the vegetables.
In a wok, heat the olive oil on a medium heat.
Add the asafoetida and fry till its fragrance is released.
Turn up the heat.
Place all the vegetables in the wok, except the spring union.
Stir fry the vegetables until they're cooked but still crisp.
Lower the heat and remove the wok.
Pour the vegetables from the wok into a bowl, and set aside.
Crumble the stock cube into hot water.
With the wok still off the heat, add the oyster, soy and hoisin sauces, stock, pepper or chilli.
Give them a good stir.
Lift the noodles straight from the water into the wok (doesn't matter that they're dripping).
Place the wok on a medium to low heat.
Toss the noodles through the sauce until they're thoroughly coated.
Simmer until the noodles start to take up the wet ingredients and become tender.
Add the sesame oil and spring onion.
Toss in the vegetables (and tofu) and stir through until all ingredients are coated with sauce.
Serve in noodles bowls.
Other posts you might like