Created with ingredients I had on hand, this Moroccan-style chickpea and eggplant dish took only 20 minutes to prepare, from start to finish.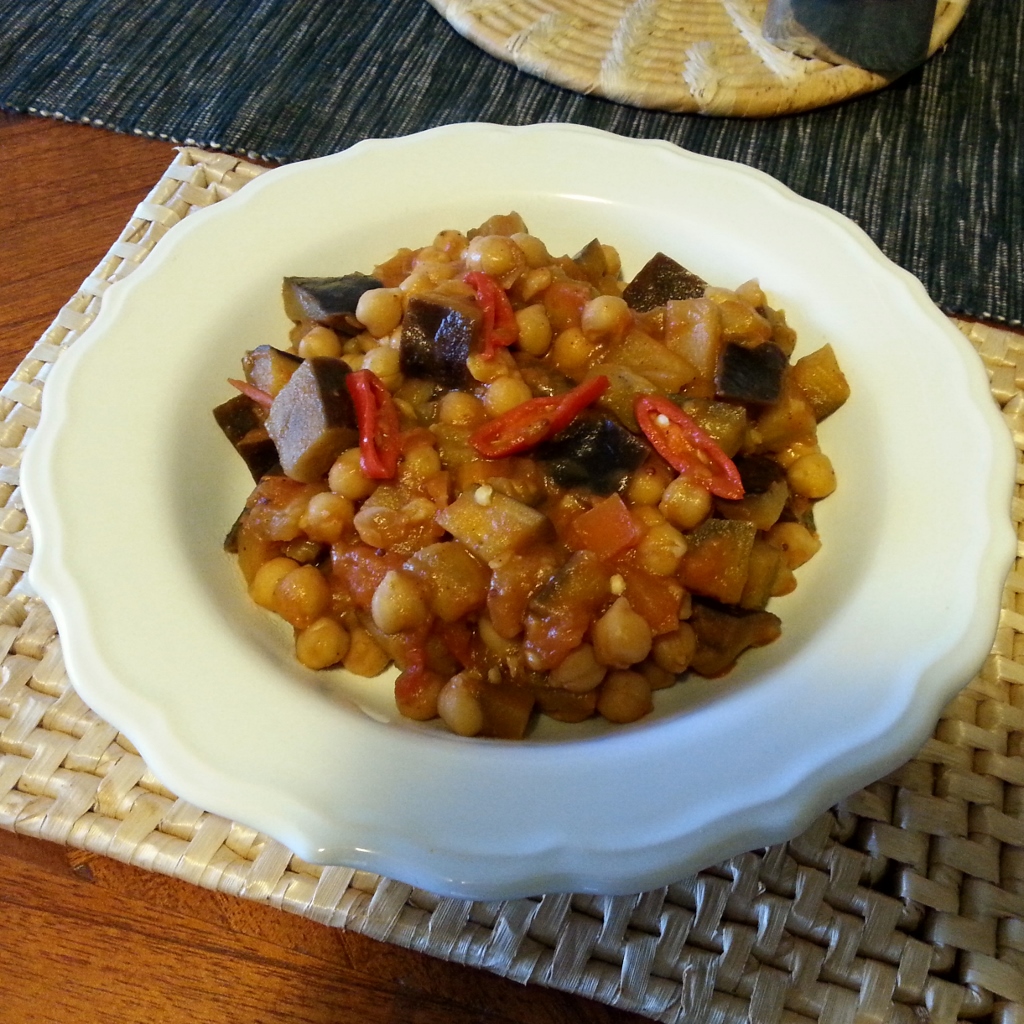 I've added one chilli here, but feel free to tweak this recipe to suit your taste.
Makes 2 generous servings.
Ingredients
1 x 400g can chickpeas (or 1½ cups of soaked and boiled chickpeas)
1 medium eggplant
2 medium tomatoes
1 medium onion
1 red hot chilli
2 cloves crushed garlic
2 tablespoons olive oil
1½ tablespoons lemon juice
1 tablespoon apple cider vinger
1 tablespoon panela sugar
1 teaspoon mustard seeds
1 teaspoon garam masala
1 teaspoon sweet paprika
1 teaspoon salt (or to taste)
½ teaspoon bicarbonate soda
½ teaspoon ground tumeric
¼ teaspoon asafoetida
Method
Drain and rinse the chickpeas.
Dice the eggplant, sprinkle with salt and leave for a couple of minutes. The eggplant will sweat and release any bitterness so, when it has, dab dry with paper towel.
Dice the tomatoes, slice the onion and chilli and crush the garlic.
Heat the oil in a saucepan.
Fry the onion until golden brown.
Add in the garlic and asafoetida and gently fry for a few minutes.
Add the garam masala and mustard seeds, and fry until the mustard seeds begin to pop.
Remove the saucepan from the heat.
Lower the heat a little.
Add the eggplant and gently fry until it begins to become translucent.
Raise the heat.
Add the tomatoes, chickpeas, lemon juice, paprika, tumeric, bicardonate soda, panela sugar and salt. (The bicarbonate soda will alkalinise the acids while leaving their background flavours.)
Fry, turning occassionally until it's all bubbling.
Reduce the heat and simmer until the eggplant is completely translucent, all flavours have combined and the sauce has taken on a rich thick consistency.
Serve hot.
Other posts you might like